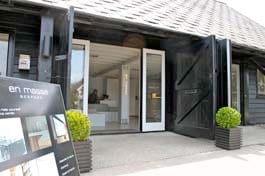 En Masse Bespoke
Unit 18/19, Blake House Craft Centre, Blake End, Rayne, Braintree, Essex CM77 6SH
En masse bespoke design and manufacture furniture and kitchens here in the UK, in our own fully-equipped workshop. We have a prestigious client base across the country, from commercial retail to office projects, through to private residential projects which are our speciality.
At en masse we pride ourselves on our professional and personal service, our attention to detail and quality of finish.
We provide an all-inclusive design and build service, from the initial concept through to delivery and installation on site. We are also able to offer a fabricate-only service, where we can build cabinetry to drawings prepared by others.
OPENING HOURS
Monday to Friday – 10:00 – 16:00
Saturday – Closed
Sunday – Closed